Valuable exhibits, such as documents, books, photographs, paintings, and models of Kyutech's days as Meiji College of Technology in the early 20th century to the present, are displayed.
---

---

---
Usage Guide
Opening Hours
8:30~12:00, 13:00~16:00
Closed Period
Weekends and Holidays, Year-end and New Year Holidays
Admission Fee
Free
Utilization Method
Prior booking essential
Location
Student Support Plaza 2F, 1-1 Sensui-cho, Tobata-ku, Kitakyushu-shi, Fukuoka
Access Map, Campus Map
Reservation/Inquiry
Kyushu Institute of Technology
TEL +81-93-884-3004
E-MAIL 
Graduation Thesis
There are graduation theses donated by alumni at the age of Meiji College of Technology (1907 – 1943). Everything including title on the cover to the body is written in foreign languages, which was quite unusual for students to be assigned graduation theses at a technical school at that time.
---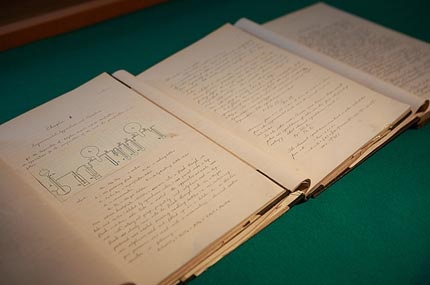 ---
Model of the Former Main Building
Main building at the opening time was designed by Dr. Kingo Tatsuno. This model was produced as the remembrance of the former main building on a scale of one- fiftieth of the actual building at the time of breaking down for extension or reconstruction of school buildings under the purposes of further university development and environmental consideration. (Completed in May 29th, 1972)
---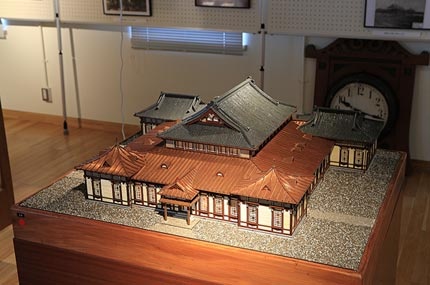 ---
Script of Lecture by Dr.Kenjiro Yamakawa at the First Opening Anniversary of a School
This is a script actually used by Dr. Kenjiro Yamakawa, the first president, at a talk at the first anniversary event in 1909. The corrected parts in red are said to be the autograph by Dr. Yamakawa. Dr. Yamakawa was assigned as the president of Meiji College of Technology in 1908 after retired from the presidency in Tokyo Imperial University (current Tokyo University). Later he held a president post at Kyushu Imperial University (current Kyushu University), Kyoto Imperial University (current Kyoto University), and Tokyo Imperial University.
---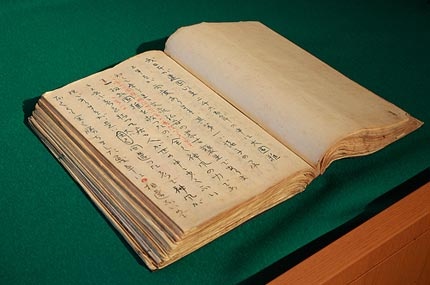 ---
Remembrance of Visitation by Earl of Shigenobu Okuma Ministry
This is a group photo shot at the visit of marquise Ōkuma (earl at that time) in 1913, the former year of the second Ōkuma Ministry's Cabinet (1914). Marquise Ōkuma, sat in the middle, Dr. Kenjiro Yamakawa (the first president), Dr. Kenjiro Matsumoto (the first principal), Dr. Keiichiro Yasukawa (the founder), and Dr. Matoba (principle and professor) from the left on the back row
---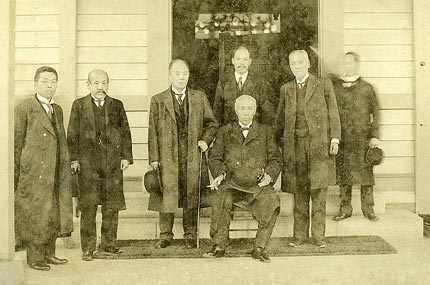 ---