Employment Rate of Graduates
---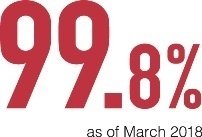 ---
Among these successful graduates, about 46% joined the "Listed Companies" such as Honda, Mitsubishi, Hitachi, Nissan, NEC, TOYOTA, Panasonic, Suzuki, Kawasaki, Canon, etc.
Strong alliance with Kyutech Alumni
"Meisen-kai" is one of the largest alumni associations in Japan with more than 38,000 members, 48 branches, and 11 committees.
Meisen-kai collaborates with Kyutech to plan and organize career development seminars for Kyutech students. In the seminars, Kyutech alumni working actively in Japan's leading companies are invited as lecturers and they share their expertise and experience with the students for their career development and job search.
---