---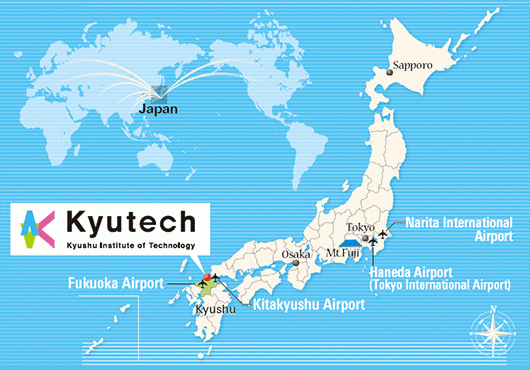 ---
The Kyushu Institute of Technology is located in Fukuoka Prefecture on the island of Kyushu.
The nearest airport is Kitakyushu Airport and the second nearest is Fukuoka Airport. For flights from Asian countries, these two airports provide convenient access to Kyutech.
When arriving at Narita International Airport or Kansai International Airport, transfer to domestic flight bound for either Kitakyushu or Fukuoka airport is required. Or taking bullet train (Shinkansen) from Tokyo or Osaka is an alternative option.
Global Flights to Japan
---
※2:05 means two hours and five minutes. ※All of the times are approximate.
---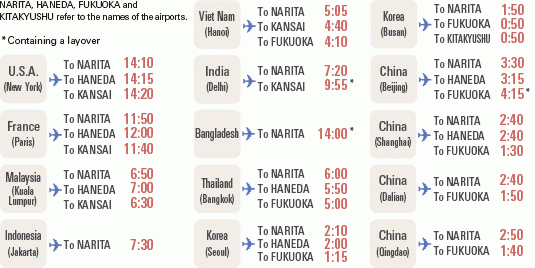 ---
From Tokyo / Osaka to Fukuoka
---
※2:05 means two hours and five minutes. ※All of the times are approximate.
---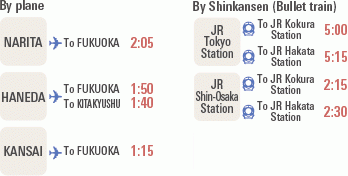 ---
From Transportation Hubs in Fukuoka to Kyutech Campuses
---
※2:05 means two hours and five minutes. ※All of the times are approximate.
---

---
※ For details, refer to the following access map of the each campus page.
---
Kitakyushu City and Iizuka City
Kitakyushu City
---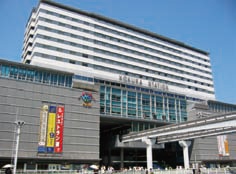 Kitakyushu, the northernmost city on the island of Kyushu, is an international city with a million residents, and faces the main island of Japan across the Kanmon Strait. Kitakyushu is near other Asian countries. Because it is conveniently located on the straight line connecting Tokyo and Shanghai, it has been blessed with prosperity as a gateway to Asia and as an industrial base in Japan. After World War II, the variety of local industry and its output were expanded, and Kitakyushu City gained its renown as a manufacturing city. However, as a result, many of its residents suffered from pollution. Kitakyushu City, industrial companies and universities came together in order to find solutions to overcome the pollution.
It has taken a while, but the environment of the city improved dramatically. This successful
solution of environmental problems was widely recognized, and the city received the UN Local Government Honors during the United Nations Conference on the Environment and
Development in 2002. Kitakyushu City also has received many other respected awards. Now, Kitakyushu City is known as a "green city." Many companies have been established here, and the Kyushu Institute of Technology plays a leading role in the technological development of this city.
---
Iizuka City
---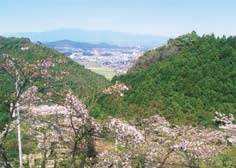 Iizuka, the heart of the Chikuho Region, is located close to both Fukuoka and Kitakyushu. Iizuka has developed as a center of logistics and cultural exchange since ancient times. During the Edo Era, it was so prosperous that it became the number-one staging post on the Nagasaki Kaido road. In the 20th Century, it experienced the dramatic rise and fall of the coal mining industry. Now Iizuka has transformed itself into an information city and academic city with a number of bases for research & developments and industrial developments. These include Kyutech and the Faculty of Industrial Science and Technology of the Kinki University as well as the Fukuoka Prefectural Iizuka Research and Development Center and the Iizuka Research Park. Iizuka has also been certified as the Iizuka Asia IT Special Business Zone (Iizuka Try Valley Concept), one of several special zones for structural reform that eases regulations in limited areas.
As an advanced model region for the promotion of the information technology industry, Iizuka commits to become a base for information-related industries (an Asian Silicon Valley). It is expected that the synergetic effect from this combination of the involvement of academic institutions and related IT companies will result in major contributions to the IT field and expanded IT business.
---