Update:2022.10.07
On September 29, 2022, Garmin Health Summit was held in Rome, Italy and the joint research works of Prof. Tomohiro Shibata's Laboratory and Prof. Sozo Inoue's Laboratory of the Department of Human Intelligent Systems, Graduate School of Life Science and Systems Engineering of Kyutech was recognized as one of the most innovative solutions that can be utilized for Garmin wearable technology for health and wellness programs and won the first prize in the Healthcare Category of the Garmin Health Awards 2022. Garmin Ltd. is known as the world's leading developer, manufacturer, and marketer of GPS-related devices.

The presentation was given remotely by Dr. Victorino, a research staff of Prof. Shibata's Laboratory. In addition to the award plaque, 50 units of Garmin wearable devices which worth $10,000 were presented as the prizes.
The Kyutech team is the first one in Japan to be selected as the finalist and won the Garmin Health Awards.
---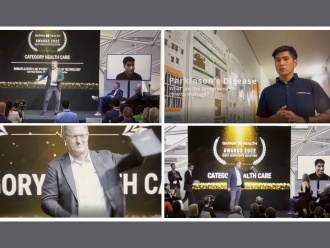 ---
---