Update:2022.08.09
On 25 July 2022, Kyutech held Safety Lecture-2022 on handling of chemical substance for international students online.
In the lecture, Professor Dr. SHYAM SUDHIR PANDEY (Department of Biological Functions Engineering, Graduate School of Life Science and Systems Engineering) gave instructions on how to handle chemical substance with due diligence and take necessary precautions.

International students from 3 campuses improved the safety awareness and learned chemical substance handling through the lecture.

---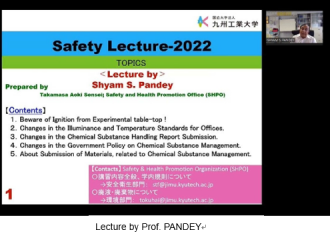 ---