Update:2022.07.13
On 4th July 2022, Universiti Putra Malaysia (UPM) and Kyutech held the 9th MSSC Liaison Committee Meeting online, co-chaired by Prof. Dr. Ismi Arif Ismail (Deputy Vice Chancellor for Academic and International of UPM) and Prof. Dr. Tohru Kamiya (Vice President for International Affairs of Kyutech).

The Meeting reviewed the collaborative activities during November 2021-June 2022, and discussed strategic plans and ideas on the development of future collaborations in this academic year. Both universities agreed to implement blended-style Academic Mobility Program by combining virtual and physical exchange activities, and discussed new ideas on the 10th International Joint Symposium (SAES2022).

UPM and Kyutech confirmed to strengthen the partnership for the mutual development.

---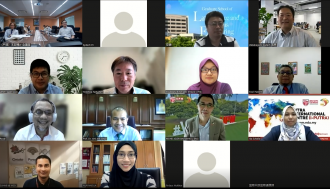 ---