Update:2022.06.14
On May 31st 2022, Universiti Teknologi PETRONAS (UTP) and Kyutech held a Final Report Meeting of Joint Research Program 2019 online. UTP has been one of our international exchange partner universities from 2019. The joint research program with UTP has started in 2019, and 8 joint projects have been accepted and carried out since then.

In the final report meeting, the following two projects were presented. These two projects were carried out from November 1st 2019 to March 31st 2022 and created sufficient research results, even though they were affected by the Covid-19 pandemic.
◆ Project 1
Principal Investigator
Prof. Dr. Kenichi Korai (Department of Computer Science and Networks, Faculty of Computer Science and Systems Engineering)
Dr. Lukman Ab. Rahim (High Performance Cloud Computing Centre)-UTP
Project Title
"Secure and Efficient Migration of Virtual Machines with Large Memory"
◆ Project 2
Principal Investigator
Prof. Dr. Keiichi Horio (Department of Human Intelligence Systems,Graduate School of Life Science and Systems Engineering)
Assoc. Prof. Dr. Manzoor Ahmed Hashmani (Computer & Information Sciences Department)-UTP
Project Title
"A Machine Learning Framework to Predict Wave Parameters at Wave Energy Converter Site"
UTP and Kyutech will continue Joint Research Program in this year for new proposals.
---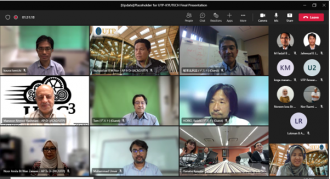 ---