Update:2022.05.16
On May 10, 2022, Kyutech held Satellite Handover Ceremony to announce a completion of 3 satellites of BIRDS-5 (PearlAfricaSat-1, TAKA, ZIMSAT-1) developed by Kyutech graduate students.

PearlAfricaSat-1 is the first satellite in the Republic of Uganda, and ZIMSAT-1 is also the first one in the Republic of Zimbabwe. Both satellites are developed by international students from each country.

The Honorary Minister of the Republic of Zimbabwe and Ugandan Chargé d'Affaires to Japan are invited the ceremony, and each satellite model was handed over from Kyutech President to them. Kyutech also received a congratulatory message from the Prime Minister of the Republic of Uganda online.

The satellites will be handed over to JAXA in the middle of June for the launch in October 2022.
Contents of the satellite completion announcement
1. Greeting
President Yasunori Mitani
2. Overview
Professor Mengu Cho, Director of the BIRDS Project and the Laboratory of Lean Satellite Enterprises and In-Orbit Experiments
3. Brief Guest Speech
- Prof. Dr. Amon Murwira (The Honorary Minister of Higher and Tertiary Education, Science and Technology Development, Republic of Zimbabwe)
- Mr. Mulijo Shadraque Wasike (Embassy of the Republic of Uganda, Chargé d'Affaires, Embassy of the Republic of Uganda)
4. Congratulatoly message
 (live broadcast)
Prime Minister Robinah Nabbanja, Republic of Uganda
5. Discription of the Project
Mr. Victor Mukungnugwa, (BIRDS-5 Satellite Project, Project Manager)
(2nd year master student, Graduate School of Engineering, Department of Engineering, Electrical and Space Systems Engineering Course)
6. Handover of satellite model
The satellite models were handed over from President Mitani to Minister Amon Murwira and Chargé d'Affaires Mulijo Shadraque Wasike.
---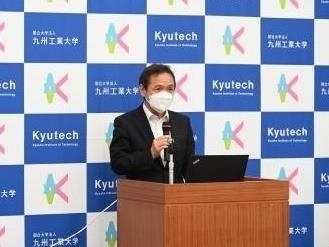 ---