Update:2022.01.25
NEWS RELEASE
Successful development of a material-based reservoir computing device and its application to robotics
- Recognizing products that AI robots grasped -
KYUTECH, Japan – A research group led by Prof. Hirofumi Tanaka and Prof. Hakaru Tamukoh at the Research Center for Neuromorphic AI Hardware, Kyushu Institute of Technology (Director: Hirofumi Tanaka), in collaboration with former Prof. Takuji Ogawa at Osaka University and Prof. Gimzewski at the University of California, Los Angeles (UCLA) has applied a random network of single-walled carbon nanotube (SWNT)/porphyrin (Por)-polyoxometalate (POM) composite as a reservoir computation (RC) device, a kind of artificial intelligence device. They have succeeded in classifying the grasping object by using the tactile signals from the hand part of the robot arm (Fig. 1). This is one of the world's first examples of robot control using an "in-materio" reservoir device, which allows nanomaterials to carry out a computation, and is expected to be used in the future for energy-saving AI systems and situational awareness functions for autonomous robots working in the home. The results of this research were published online in the German scientific journal "Advanced Intelligent Systems" on 4/Jan/2022 (Germany standard time) DOI: 10.1002/aisy.202100145.
---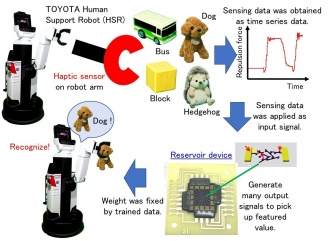 ---
Research Points
Success in developing a material-based physical (in-materio) reservoir arithmetic element.
The first application of in-materio reservoir computation to the recognition of grasping objects.
The developed reservoir computing device is expected to be applied to complex AI problems such as time series prediction and voice recognition in the near future.
---
Detail information about the paper
Title: Emergence of In-Materio Intelligence from an Incidental Structure of a Single-Walled Carbon Nanotube–Porphyrin Polyoxometalate Random Network
Authors: Deep Banerjee, Takumi Kotooka, Saman Azhari, Yuki Usami, Takuji Ogawa, James K. Gimzewski, Hakaru Tamukoh, Hirofumi Tanaka*
Journal: Advanced Intelligent Systems, DOI: 10.1002/aisy.202100145
---