Update:2021.10.08
Universiti Putra Malaysia (UPM) and Kyushu Institute of Technology (Kyutech) are pleased to announce the 9th International Symposium on Applied Engineering and Sciences (SAES2021), which will be held online, from 5th to 8th December 2021.

SAES2021 is an international forum for presentations and interactions in the current and emerging areas of Applied Engineering and Sciences. It provides a unique platform for researchers, students, scientists and engineers to share their experiences and views of their latest research breakthrough.
・Date: 5th-8th December, 2021
・Main organizer : UPM
・Co-organizer : Kyutech
・Registration fee: Free
ABSTRACT SUBMISSION
Access the following submission web site and upload your abstract in Microsoft Word format.
---

---
---
Submitted abstracts are subject to peer review and need to be accepted.
---
---
IMPORTANT DATES
*Registration & abstract submission deadline: 15th October 2021, 30th October, 2021

*Abstract acceptance notification: 30th October, 2021 7th November,2021
PRESENTATION STYLE
Oral via live streaming / on-demand streaming
Poster on website
Q&A via chat / live video meeting
Note
Please be aware of that the contents of abstract will be accessible to participants from other universities and companies.
Copyrights
The ownership of copyright of abstract belongs to the authors and SAES 2021 committee.
Contact
SAES Secretariat
TEL: +81-93-884-3664
E-mail: saes*jimu.kyutech.ac.jp (Change * to @ when you e-mail)
---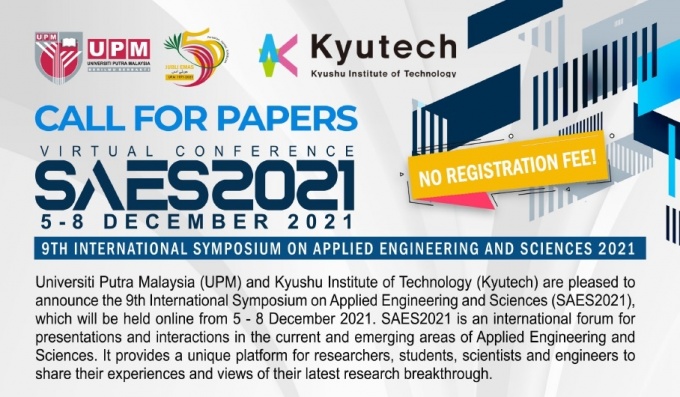 ---