Update:2021.09.13
In World Robot Summit (WRS) 2020 held at Aichi Sky Expo from 9 to 12 September 2021, "Hibikino-Musashi@Home" won the 1st place for "World Robot Challenge, Service Robotics Category, Partner Robot Challenge (Real Space)". This Kyutech's Student Project team consists mainly of the students from Graduate School of Life Science and Systems Engineering (LSSE), supervised by Prof. Dr. Hakaru Tamukoh.
They also received the Minister of Economy, Trade and Industry Award and 5,000,000 JPY as a prize. It is the 2nd consecutive title following the victory in the WRS pre-tournament held in Tokyo in 2018.

In the Partner Robot Challenge (Real Space), they competed in the concept of cleaning up a room. All teams use Toyota Motor Corporation HSR (Human Support Robot), and compete the quality in the software, the artificial intelligence, and the robot control under the same hardware conditions.

Hibikino-Musashi@Home is a student project team working on robot development with the goal of "realizing a home service robot that can coexist with humans." The feature of their robot is its ability to complete tasks quickly and accurately. This can be realized by doing several movements at the same time such as moving a cart, stretching its arms and shaking the head. Moreover, it is able to recognize the type and shape of an object accurately by combining information obtained from multiple sensors and processing it using a neural network.

Robots are the culmination of achievements in engineering fields such as computer science, artificial intelligence, and robotics. The robot that participated in this competition is not only the results of research and development of Hibikino-Musashi@Home, but also the results of research by team members of LSSE with diverse backgrounds. In addition, its performance has been improved day by day, by the cross-disciplinary research and development at Research Center for Neuromorphic AI Hardware of Kyutech, which leads to the enhancement of robot application technology.

While various activities are restricted because of the COVID-19 situation, the team members came together with devising various ideas for infection prevention and remote development, and integrated various robot technologies such as deep learning and robot control into HSR in order to challenge this competition.
The team participated in the competition in Aichi Prefecture with thorough infection control measures and health monitoring by PCR and antigen testing before and after the competition, under the strict guidance of Kyutech and WRS Administration Headquarters.

Videos from the WRS2020 are archived on YouTube Live.
Also the success of Hibikino-Musashi@Home at the competition was featured in many articles.
They are widely recognized as one of the world's top teams. Please do not miss their future performance.

Achievements of Hibikino-Musashi@Home
Competition
Result
World Robot Summit 2020
1st place (World competition)
RoboCup 2021
2nd place (World competition)
RoboCup JapanOpen 2020
RoboCup JapanOpen 2020 Simulation
1st place (OPL、DSPL)
2nd place (Technical Challenge)
RoboCup 2020
Cancelled
RoboCup JapanOpen 2019
1st place (OPL、DSPL)
RoboCup 2019
3rd place (World competition)
RoboCup Asia-Pacific 2019
2nd place (World competition)
RoboCup 2018
1st place (World competition)
RoboCup JapanOpen 2018
1st place (OPL)、2nd place (DSPL)
World Robot Summit 2018
1st place (World competition)
RoboCup 2017
1st place (World competition)
Hibikino-Musashi@Home is supported by Kyutech's Creative Learning Project (Student Project) and the Joint Graduate School Intelligent Car Robotics & AI. Kyutech supports creative projects by student groups with the cooperation of the alumni association and industries. Part of this achievements is based on results obtained from a project (JPNP16007) commissioned by the New Energy and Industrial Technology Development Organization (NEDO).
About Hibikino-Musashi@Home
---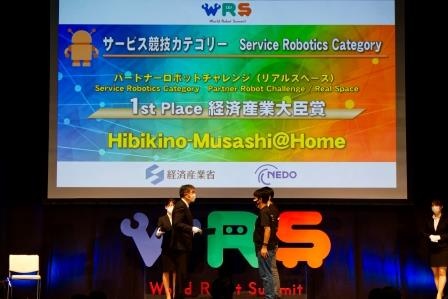 ---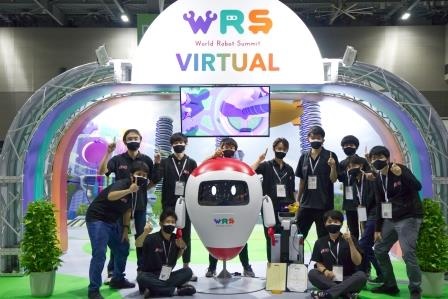 ---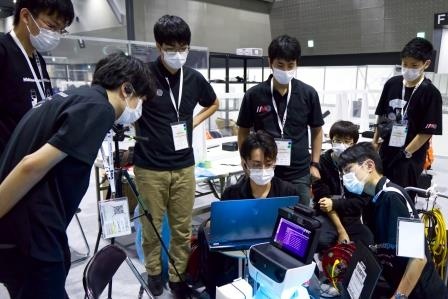 ---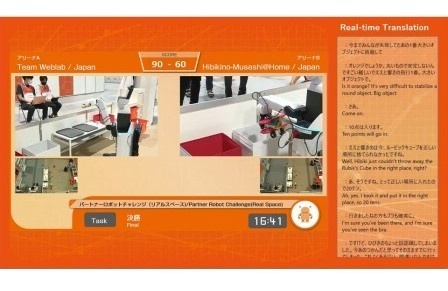 ---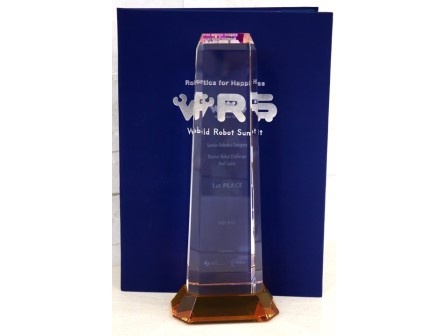 ---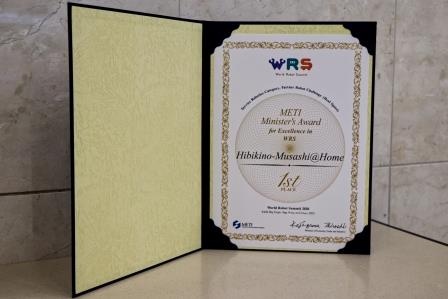 ---