Update:2019.07.16
Prof. Mengu Cho (Professor of Department of Space Systems Engineering and also Director of Laboratory of Spacecraft Environment Interaction Engineering of Kyutech) has been awarded the 2019 Frank J. Malina Astronautics Medal, which is awarded each year by the International Astronautical Federation (IAF). According to the IAF, this medal is "presented annually to an educator who has demonstrated excellence in taking the fullest advantage of the resources available to them to promote the study of astronautics and related space sciences." This medal has been issued annually since 1986.

The IAF was founded in 1951. The organization "is the world's leading space advocacy body with 366 members in 68 countries, including all leading space agencies, companies, research institutions, universities, societies, associations, institutes and museums worldwide." Kyutech is a member of the IAF.

The IAF organizes the annual International Astronautical Congress (IAC), which is the world's premier space event. This year, to celebrate the 50th anniversary of the moon landing, the IAC will be held in Washington D.C. from 21st to 25th October of 2019. At the closing ceremony of the 2019 IAC, Prof. Cho will be presented with the medal in front of all the major space players of the world.

The other Asian winners of the medal are: Kiran Karnik (India, 1998), Tetsuo Yasaka (Japan, 2006), and Motocki Hinada (Japan, 1996).

---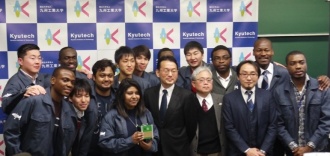 ---
-Also read the news article "Focus On" on IAF web page (External link)
-About IAF, click here (External link)
-About Frank J. Malina Astronautics Medal, click here (External link)
---