Update:2019.03.29
On March 8th, 2019, 40 international students from 15 countries took part in the annual field trip. This year, the group visited various sites in the Kanmon area, such as the straits, bridge, undersea tunnel, tower and shrine, so that they could come in touch with Japanese engineering technology.

Thanks to the beautiful weather, the students had chances to take lots of pictures everywhere against the blue sky. At first, they visited the Second Observation Deck of Mekari Park overlooking the Kanmon Straits, and then they walked through the Kanmon Pedestrian Tunnel under the Kanmon Straits, which is unique around the world. After arriving at the other end of the tunnel in Shimonoseki, the students also received a 'Kanmon TOPPA! Commemorative Certificate' as a proof that they walked under the straits.

While moving by bus, the students learned about Dannoura sea area which is well known as the final battle field of the Genpei War (the civil war in the 12th century), and the history of the Kanmon Straits. The students also challenged and actively answered to the quizzes about the Kanmon straits such as the number of ships which pass through the straits a day, the number of times the tidal current changes in a day and the height of the Kaikyo Yume Tower etc.

During the visit to Akama Shrine, many of the students showed interest in the ghost story of 'Hoichi the Earless', and gazed eagerly at the statue of Hoichi. At Kaikyo Yume Tower, the final destination, the students had an opportunity to take a full 360° view of Shimonoseki City, the straits, Ganryu-Jima Island, the Seto Inland Sea, and the Hibiki Nada Sea. After that, they took the Kanmon Ferry from Shimonoseki back to the Moji area.

This trip was a fantastic opportunity for all of the students not only to learn about the geography, history, and culture of the area they live in but also to meet and interact with the students from other campuses.
---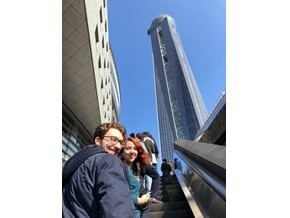 ---