Update:2018.12.27
 A space industry report states that Kyutech is the world No. 1 academic operator of small satellites.

 "Bryce Space and Technology" is a company based in northern Virginia in the United States and is partially funded by NASA. Bryce produces reports about the space industry. It has just released "Smallsats by the Numbers 2018" and in this report it is stated that Kyutech has launched the highest number of small satellites among all "academic operators" (this means universities) of the world, followed by Nanyang Technical University (Singapore), San Jose State University (USA), Tsinghua University (China), and a long list of others.

 Kyutech deployed 5 satellites into orbit in 2018, and 4 will be launched in 2019. Therefore, by the end of 2019, it is expected that the small satellite launch tally for Kyutech will reach 18.

 "Smallsats by the Numbers 2018" can be viewed here.
---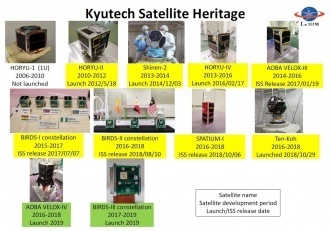 ---