Update:2016.12.20
President Dr. Muhammad Mizanuddin of Rajishahi University,which is the second largest university after Dhaka University in Bangladesh, visited Tobata campus and Iizuka campus on November 7, 2016.

On Tobata Campus, a courtesy visit was made to President Oie, Vice President Yamaguchi (International Affair), and visited Laboratory of Spacecraft Environment Interaction Engineering. Several graduate students of Bangladesh belonging to the laboratory of Professor Cho, the facility manager of the laboratory, are developing the first satellite in Bangladesh.

On the Iizuka campus, a courtesy visit was made to Prof. Kajiwara, Dean of Facalty of Computer Science and Systems Engineering. Professor Hiroyuki Kurata of director of BMIRC (Biomedical Informatics R&D Center) has accepted three doctor students from Rajshahi University and is also studing with professor in Rajshahi University.

Through this exchange, mutual visits of students and more are expected to develop in the future.
---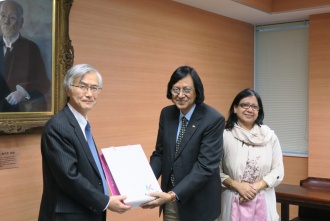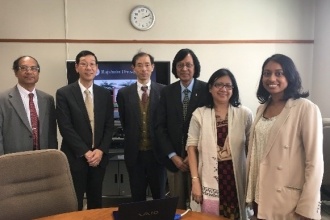 ---