Update:2016.10.24
Kyutech's Smart Life Care Society Creation Unit got TV program coverage by NHK (Japan's national broadcasting station) on September 16 for its ongoing experiments at the elderly care house "Sawayaka Kiyota-kan".

"Smart life care" is an innovative idea to support people's social life with high quality of life (QOL) by using ICT and robotics, and providing the best medical services and nursery systems with limited workforce, such as preventive health care and nursing care.

Smart Life Care Society Creation Unit, as Kyutech's Strategic Research Division, is conducting researches in the field of sensor, information terminal device, robot, machine learning technology and big data processing technology, aiming at realizing high-quality and sustainable social life in the aging society.
---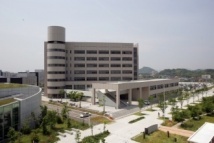 ---