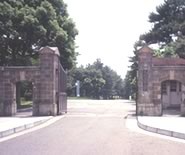 ---
Tobata Campus

| | |
| --- | --- |
| Address | 1-1 Sensui-cho, Tobata-ku, Kitakyushu-shi, Fukuoka, 804-8550, JAPAN |
| Phone | +81-(0)93-884-3008 |
| Fax | +81-(0)93-884-3015 |
---
The School of Engineering provides talented individuals with the advanced skills and knowledge to fulfill their potential.
---
This goal is based on the spirit of Kyutech, to
"instill a deep knowledge of science and engineering in high caliber students."
In order to realize this goal, the School of Engineering works to train individuals who will actively work in the international community and possess the following characteristics:
Understanding of science and technology and taking the initiative in solving new problems,
The skills needed to contribute to the development of industry, especially advanced manufacturing skills in consideration of the local predominance of manufacturing,
Highly sensible and intelligent individuals,
An insatiable appetite for high-level and wide-ranging knowledge.
[1 Educational Features]


A Balanced Arrangement of Courses

The unique curriculum of the School of Engineering allows students to take some specialized subjects even from their first year.
At many other universities, students can take only basic natural science subjects in their 1st and 2nd years, which can sap the enthusiasm of students who entered university looking forward to attending specialized classes.
In order to avoid this, Kyutech has prepared basic specialized classes and devised a curriculum that gradually increases each student's interest in their studies.
[2 Educational Features]


Classes Focused on Manufacturing

Kitakyushu City, where the School of Engineering is located, has a history of the development of modern Japanese industry, as can be seen in the fact that the Yahata Works started its operations here in 1901. Many people engaged in manufacturing live in this area, which has made Kitakyushu city the center of industrial manufacturing. Kyutech is based in an area where the tradition of manufacturing has been handed down over generations, and where a deep understanding of science and technology has been developed. This is the reason that Kyutech emphasizes classes focusing on manufacturing.
[3 Educational Features]


Education Programs Designed with a View of Integration with Graduate Studies

More than half the students at Kyutech continue on to graduate school. This is a clear evidence that these students desire to acquire more advanced specialization. To back up that desire for continued education, Kyutech has prepared a curriculum that provides a smooth transition to its graduate school. (For example, applied versions of the classes that students take in the 4th year of their undergraduate studies are offered at the Graduate School.)
The curriculum is designed to enable students to learn comfortably, to nourish a strong appetite for study and to offer a high level of studies capable of answering that appetite.

Mechanical Engineering Course
Space Engineering Course
Control Engineering Course

Architecture Course (From the 2nd year)
Civil and Environmental Engineering Course (From the 2nd year)

Electronic Engineering Course (From the 3rd year)
Electrical Engineering Course (From the 3rd year)



---